Scorers: Ulster: Tries: Vicky Irwin, Emma Jordan, Fiona Tuite, Claire McLaughlin
Munster: Tries: Eimear Considine, Chloe Pearse 2, Roisin Ormond, Nicole Cronin, Niamh Briggs; Cons: Niamh Briggs 5
HT: Ulster 10 Munster 19
Eimear Considine and co-captain Chloe Pearse both continued their try-scoring form from last week's 24-7 triumph over Connacht in Cork, while head coach Laura Guest was particularly pleased with the improvements in the set piece.
"We fixed the timing issues in our lineout and got some great front-foot ball off it," said the former Ireland international. "Likewise, we dominated the scrum and earned a few scrum penalties. Starving Ulster's set piece also allowed us to dominate possession."
Munster did not have it all their own way in the first, with Ulster fighting furiously for an Interpro win that has eluded them for a number of years. Unconverted tries from Cooke backs Vicky Irwin and Emma Jordan inspired hopes of a surprise result.
Winger Considine marked her first start of the tournament with a well-taken try in the corner after 10 minutes. Niamh Briggs, who tallied up 15 points, swung over a brilliantly-struck conversion and the momentum was really behind Munster after number 8 Pearse broke from a scrum inside the hosts' 22 and stepped away from the final defender to make it 12-0.
Those scores in quick succession from Irwin and Jordan ignited Ulster's challenge by the 25-minute mark, and captain Larissa Muldoon and her team-mates maintained a high intensity and level of accuracy, backed by the vocal home crowd.
Importantly for Guest's charges, they squeezed in their third try just before half-time to give themselves some breathing space at 19-10. The Munster forwards piled on the pressure close to the line, recycling in dogged fashion before Ballincollig lock Roisin Ormond forced her way over.
Two minutes after the restart, Pearse scored again from the back of Munster's muscular scrum to chalk up the bonus point, and it was the set piece which paved the way for try number five. Nicole Cronin sniped over from a five-metre scrum with Briggs knocking over both conversions.
Soon it was the former Ireland captain's turn to cross the whitewash, Briggs being the recipient of a well-timed offload from Considine whose strong carry punctured the home defence in the 58th minute. Ulster replied with a try out wide from Dublin University's Fiona Tuite, who made her debut for Ulster last week.
The ever-industrious Claire McLaughlin deservedly put her name to Ulster's bonus point try, the centre-turned-flanker powering over despite the best efforts of Considine and replacement Claire Keohane. Those concessions leave Guest in no doubt that further improvements are needed ahead of next Saturday's trip to Dublin.
"Some errors from the previous week were fixed today but we also need to make sure that we click, rather than missing 10 minutes here or there in a half," added the former Ireland international. "We're under no illusions again. Leinster are a very good side and I'd say there's going to be very little in it."
Today's results leave Leinster and Munster level on nine points, with the Blues top of the table courtesy of a superior scoring difference (+62 compared to Munster's +37). Entry to Saturday's title decider at Energia Park (kick-off 7.30pm) is free for Leinster Rugby Season Ticket holders and for those that present their ticket from Leinster v Dragons (kick-off 5.15pm) at the gate.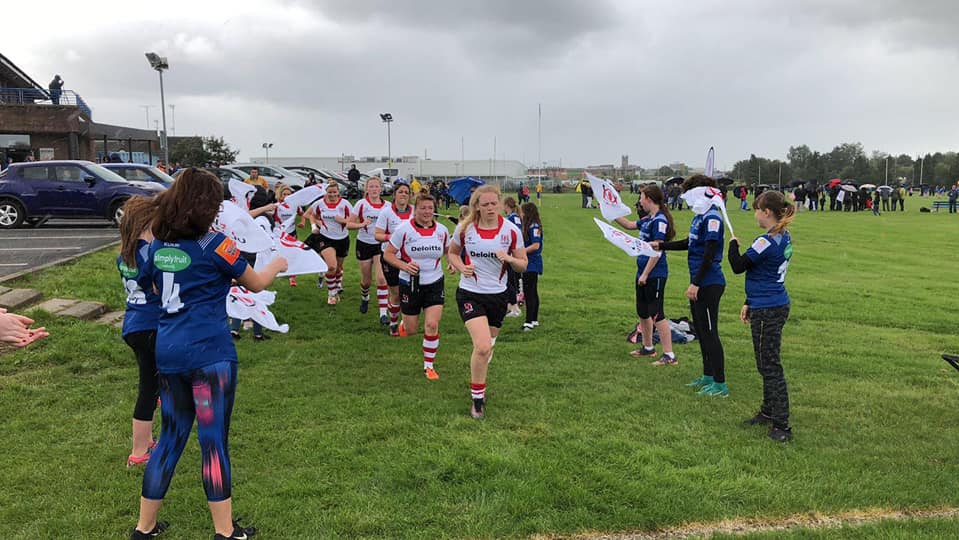 ULSTER WOMEN:
Larissa Muldoon (Railway Union) (capt); Eliza Downey (Cooke), Maeve Liston (Ballyshannon), Vicky Irwin (Cooke), Emma Jordan (Cooke); Jemma Jackson (Cooke), Kathryn Dane (Old Belvedere); Ilse van Staden (Cooke), Neve Jones (Malone), Shannon Heapes (Cooke), Sorcha Mac Laimhin (Cooke), Rebecca Lawlor (Malone), Beth Cregan (Cooke), Claire McLaughlin (Cooke), Lauren Maginnes (Cooke).
Replacements: Michelle Gormley-McLaughlin (City of Derry), Aishling O'Connell (Cavan), Kathryn Hannah (Ballynahinch), Keelin Brady (Virginia), Ella Durkan (Malone), Peita McAlister (Malone), Fiona Tuite (Dublin University), Brittany Hogan (Railway Union).
MUNSTER WOMEN:
Laura O'Mahony (UL Bohemians); Eimear Considine (UL Bohemians), Enya Breen (Bantry Bay), Niamh Briggs (UL Bohemians), Laura Sheehan (UL Bohemians); Rachel Allen-Connolly (UL Bohemians), Nicole Cronin (UL Bohemians); Fiona Hayes (UL Bohemians) (co-capt), Kate Sheehan (UL Bohemians), Fiona Reidy (UL Bohemians), Roisin Ormond (Ballincollig), Siobhan McCarthy (Railway Union), Edel Murphy (UL Bohemians), Ciara Griffin (UL Bohemians), Chloe Pearse (UL Bohemians) (co-capt).
Replacements:
Andrea Stock (Bantry Bay), Clodagh Cronin (Durham University), Clodagh O'Halloran (UL Bohemians), Sarah Quin (Richmond), Aine Staunton (UL Bohemians), Christine Coffey (Thurles), Ciara Scanlan (St. Mary's), Claire Keohane (UL Bohemians).
Referee:
Colm Roche (IRFU)