A successful take in the lineout by Katie Hetherington secured first phase ball, Lisa Mullan executed a 'wrap around' with Kelly McCormill and created enough space for her to score Ulster's second try.
With Ulster leading 12-0 Connacht changed their approach, taking the ball up the middle, sucking in the Ulster tackles, and then spread it wide to their flying centre Beibhinn Parsons who made a break from the half way line and scored between the posts. Meabh Daley converted to make it 12-7 to the visitors.
With their confidence up, Connacht started to dominate the breakdown. They were deemed to have transgressed and Lisa Mullan added a further 3 points to Ulster's score with a well kicked penalty, leaving the scoreline 15-7 in favour of Ulster at the break.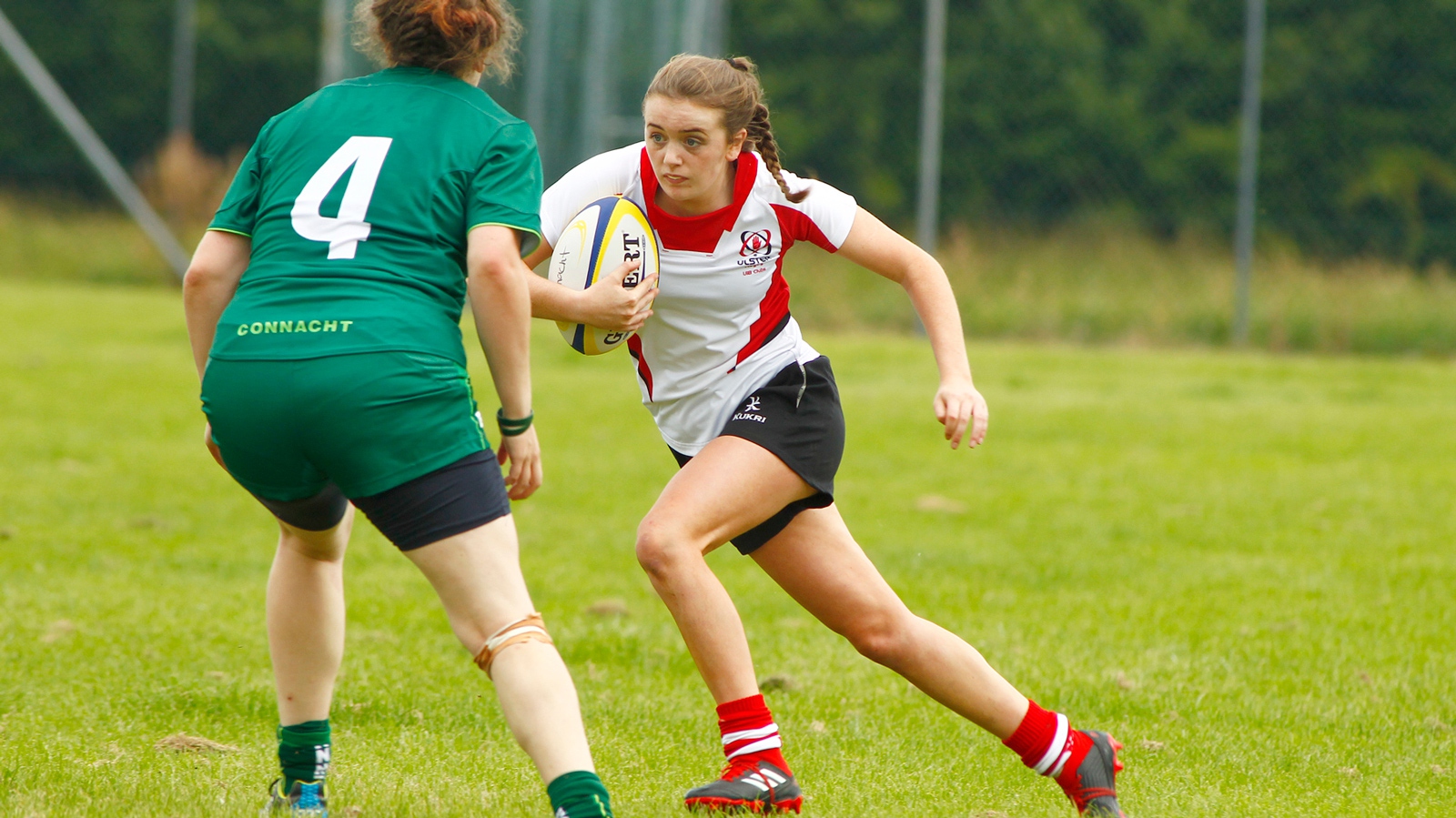 Following the interval, Connacht took a quick penalty from inside their own half and gained additional metres before a kick to touch gave them attacking lineout. A clean win in the lineout, followed by quick hands gave Connacht's Parsons the space to get away from her markers to touch down for the try, which was converted to reduce the deficit to 15-12.
The game ebbed and flowed for the next period with no side taking full control.
Ulster added another penalty in reply to another Connacht try, scored by Parsons.
Ulster held onto their slender lead 18-17 until the last 5 minutes when Connacht edged ahead with a penalty. The home side sealed the victory with a further penalty to leave a final score of 23-18 to Connacht.
Next up for the Ulster U18 Girls is the visit of Leinster to Portadown RFC on Sunday 9th September, kick-off 12.30pm.
Ulster U18 Girls team:
(15-9): Ruth Gilsenan (Virginia RFC), Sophie Kinghan (Monaghan RFC), Amanda McQuade (Virginia RFC), Kelly McCormill (VC) (Monaghan RFC), Emma Ryan (Virginia RFC), Lisa Mullen (Virginia RFC), Amber Redmond (Virginia RFC);
(1-8): Emma Kearney (City of Armagh RFC), Aoife Cahill (Malone RFC), Ella Garland (Monaghan RFC), Sorcha Higgins (Virginia RFC), Naomi McCord (Malone RFC), Lucy Turkington (Dungannon RFC), Katie Hetherington (Capt) (Clogher Valley RFC), Ciara Byers (Virginia RFC).
Replacements: Cara O'Neill (Malone RFC), Ava Fannin (Virginia RFC), Delyth Cook (Ballyclare RFC), Fern Wilson (Malone RFC), India Daley (Enniskillen RFC), Zoe Rafferty (City of Armagh RFC), Zara Flack (Enniskillen RFC), Toni Macartney (Larne RFC).