Danske Bank Ulster Schools' Cup Semi-Final:
The Royal Belfast Academical Institution 22 The Royal School Armagh 26
The Royal School Armagh, who were bidding to reach their first Schools' Cup semi-final since 2004, started the game in determined fashion, immediately forcing a knock-on from the kick-off.
On 8 minutes the Armagh men had the first scoring opportunity of the game, but centre Zac Thompson's well struck penalty from near half-way fell just to the right of the posts.
Four minutes later Armagh did get off the mark. On their first attempt, the ball was knocked forward off a scrum strike, however RBAI weren't able to clear outside the '22. From the resulting lineout, the ball was fed to Thompson's midfield partner Matthew Reaney who powered through to touch down under the posts. Thompson fired over the simple conversion.
On 15 minutes Armagh added their second try in what was their next venture into the RBAI '22, as hooker and captain Jack Treanor smashed his way over. Thompon's extras opened a 0-14 lead.
RBAI lost inspirational skipper David McCann after 26 minutes but his side did get their opening score through a Robin McIlveen penalty.
The penalty seemed to lift the confidence of the RBAI players, and when RSA were pinged for offside a few minutes later, McIlveen's kick from hand took his side down to the 5m line. However, Armagh were able to steal the lineout and clear to half-way.
RBAI continued to grow into the game, and the impressive scrum-half Niall Armstrong found space off a scrum to dart in behind the posts, with McIlveen's conversion making it RBAI 10 RS Armagh 14 at half-time.
7 minutes after the restart, Armagh thought they had got over for their third try but Nicolas Jennings was held up over the line, before replacement Archie McAlpine also suffered the same fate off the next play. However, it was third time lucky for the Armagh men as number 8 Ryan O'Neill picked off the back of the scrum to drive over.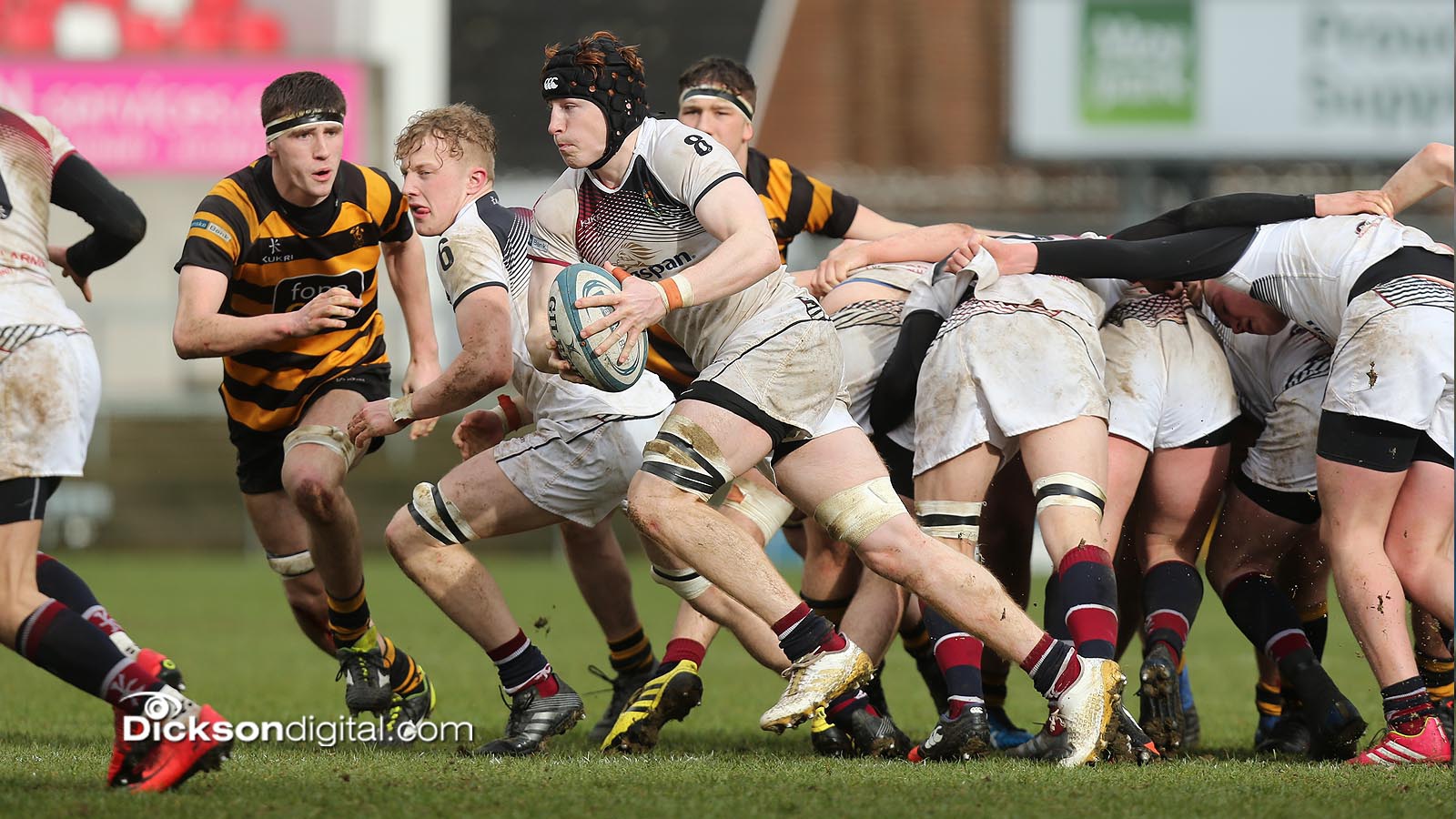 RBAI responded again on 48 minutes with their forwards making some big carries inside the Armagh '22, before shifting play left to winger Jude Postlethwaite who managed to dive over just inside the corner flag to make it 15-21.
For a third time, Armagh were held up over the line on 56 minutes. From the following scrum, a strike right was halted but play was quickly moved left for winger Nicholas Jennings to get over for the score.
RBAI hooker Connor McCormick set the game up for a grandstand finish as he powered over for a converted try with just 5 minutes remaining, bringing the score-line to 22-26.
With the game in the balance as the clock ticked past 70 minutes, RBAI piled on the pressure. With RSA forced to concede a penalty on their 5m line, RBAI took the quick tap and make a drive for the line, however the Armagh defence managed to hold up the ball, and in doing so, held out for a memorable win.
The Danske Bank Ulster Schools' Cup Final between Campbell College and Royal School Armagh will take place on Monday 19th March, 3.00pm at Kingspan Stadium.
SCORERS:
RBAI:
Tries: Niall Armstrong, Jude Postlethwaite, Connor McCormick
Cons: Robin McIlveen (2)
Pens: Robin McIlveen
RS Armagh:
Tries: Matthew Reaney, Jack Treanor, Ryan O'Neill, Nicholas Jennings
Cons: Zac Thompson (3)
TEAMS:
RBAI:
(15-9): Bradley McNamara, Jamie Mullan, Robin McIlveen, Angus Adair, Jude Postlethwaite, David Lyttle, Niall Armstrong;
(1-8): Ethan Sloan, Connor McCormick, Jared Wait, Daniel Eakin, Tim Lyons, AJ Hussell, Jack Magee, David McCann (Captain).
Replacements: Rory Adair, Robert Curry, Stuart McAuley, Tom Lavery, Alexander Weir, Marco Manso, Kyle McComiskey, James Heyburn.
RS Armagh:
(15-9): Michael Campbell, Oliver Webb, Zac Thompson, Matthew Reaney, Nicholas Jennings, Romain Morrow, Charlie Worth;
(1-8): Jack Chapman, Jack Treanor (Captain), Jonny Agnew, Ryan Finlay, Samuel King, Aaron Woods, Graham Crawford, Ryan O'Neill.
Replacements: Sam Rainey, Adam Edgar, Archie McAlpine, Jude Roberts, Josh King, Alex Johnston, Callum Whiteside, Peter Taylor.