Danske Bank Ulster Schools' Cup Semi-Final:
Campbell College 17-8 Methodist College
Contested in perfect playing conditions on a mild day at Kingspan Stadium, there was very little between the sides in the opening quarter of the game.
When Campbell were penalised at the breakdown in the 15th minute, Methody full-back Ethan Mcllroy slotted over the resulting goal kick to get his side off the mark.
In the 21st minute Methody Tom O'Doherty, an early replacement for the injured Kevin McNaboe, made a superb break through the midfield but was halted by an excellent cover tackle from Campbell full-back Conor Rankin less than 5 metres from the try line. While Methody recycled play to the right, the Campbell rearguard were able to recover and turn over possession before clearing their lines.
On 28 minutes Campbell made their first real venture into the Methody '22, forcing a penalty which Rankin confidently dispatched to level up the sides.
Five minutes later a loose Methody pass at half-way was intercepted and, following several phases of patient build up, Campbell winger Rex Tinsley was released to score in the left corner. Rankin's superb touchline conversion extended his side's lead to 10-3 at the break.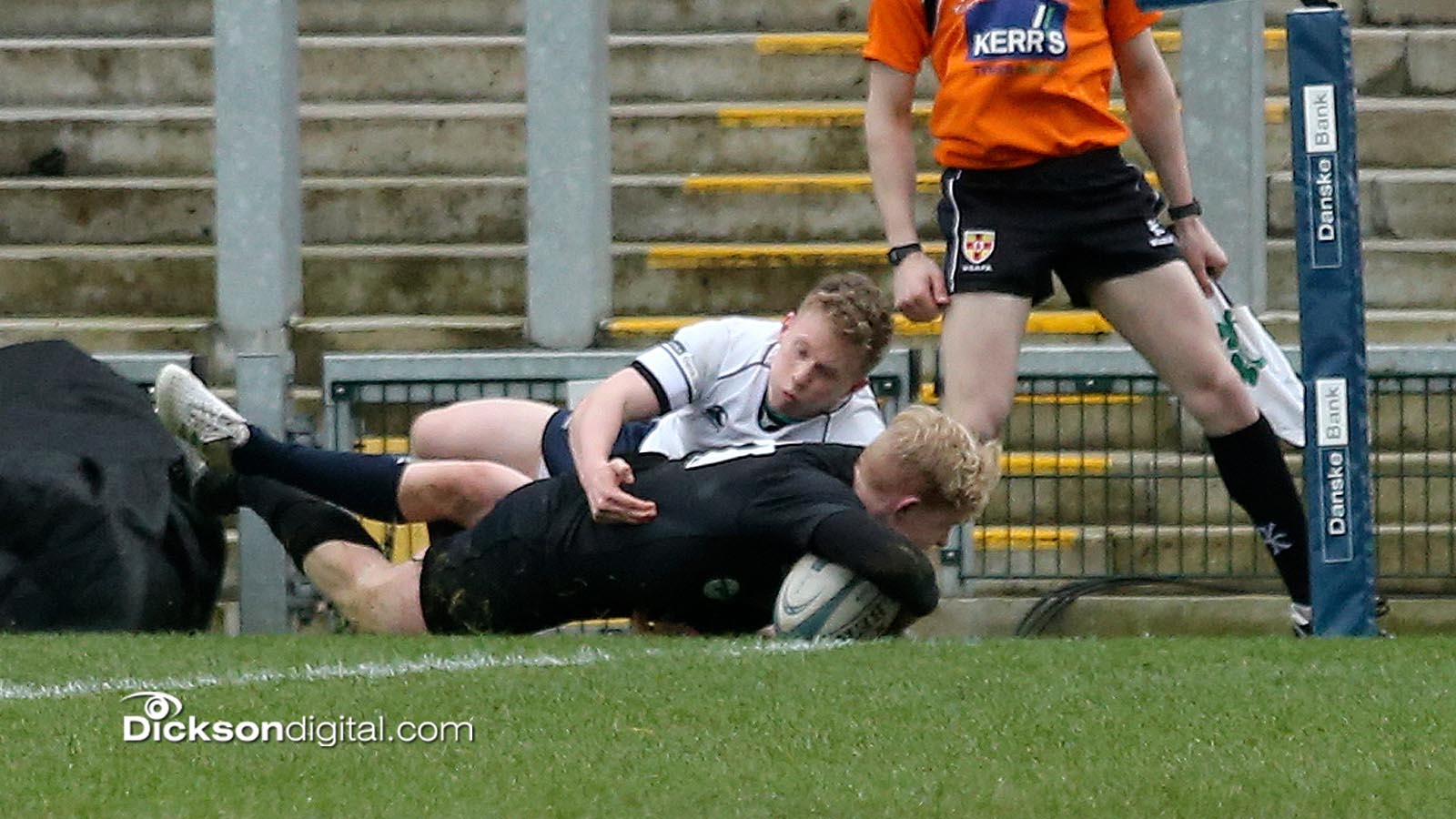 Eight minutes after the restart Methody launched the first meaningful attack when hooker Daniel Humphreys broke away, but once again the Campbell defence scrambled back to recover possession.
On 48 minutes, Campbell engineered a powerful lineout maul, making 20 metres before being pulled down just before the try line. From the resulting 5 metre scrum, play was shifted left before a series of pick and drives from the Campbell forwards eventually broke through the Methody defence for captain John McKee to touch down. Rankin once again converted from the sideline to make it 17-3.
In the final five minutes Methody piled on the pressure and were eventually rewarded with the try that their performance deserved as scrum-half Matthew Neill squeezed over from close range. However, it was to prove only a consolation as Campbell were able to close the remainder of the game out.
SCORERS:
Campbell College:
Tries: Rex Tinsley, John McKee
Cons: Conor Rankin (2)
Pens: Conor Rankin
Methodist College:
Tries: Matthew Neill
Pens: Ethan McIlroy
TEAMS:
Campbell College:
(15-9): Conor Rankin, Will Davis, Jamie Macartney, Ben Power, Rex Tinsley, Oscar Yandall, Dara Gaskin;
(1-8): John McKee (Captain), Harry Jenkins, Patrick McAlpine, Oisin Kiernan, John Harrison, Jack Stinson, Sam Robinson, Tobi Olaniyan.
Replacements: John Gildea, Matthew Carlisle, Matthew Poor, James Johnston, Jamie Brennan, Lucas Yandall, Jack McAllister, Kieran Robertson.
Methodist College:
(15-9): Ethan McIlroy, Conor Scollan, Kevin McNaboe, John Fletcher, Chris Larmour, Thomas Armstrong, Matthew Neill (Captain);
(1-8): Daire Morelli, Daniel Humphreys, Ben Crangle, Max Lyttle, Ben Gourley, Conor Kelly, Samuel Bernard, Jonah Bingham.
Replacements: Patrick Johnston, Tom Millar, Luke Sullivan, Adam Reid, Jack Watson, Louis Lowry, Tom O'Doherty, Robbie Armstrong.