Piutau is the youngest of 10 children who grew up in the tough Auckland suburb of Mangere. Five girls were born before, in a matching rush, five boys followed. Piutau and his four brothers "lived in the garage. We had three beds and a couple of bunk beds. I guess they were hard times but it never felt like that. It speaks volumes for my parents that I never thought 'I'm still hungry' or 'I need clothes.' But you look back at 12 people needing to be fed and you think: 'How did they do it?' I just take the positives - the love they showed and the discipline they taught us."
Piutau made his All Black debut in June 2013, against France, and won his 17th and last cap against a combative Springbok side in July 2015. Those memories light up his face and suggest that, despite his obvious happiness playing for Ulster, he still misses Test rugby.
"I only played the last 10 minutes against France but I was so happy. You dream about that moment for so long - and so it felt surreal. At the same time it felt right and amazing. And then my last Test at Ellis Park was very tough. So I have great memories and I was lucky enough to have a perfect record. Played 17, won 17."
In swapping a black Test jersey for Ulster's white shirt, Piutau suffered the disappointment of exclusion from New Zealand's 2015 World Cup squad. He could have kept his decision a secret but he announced in March 2015 that he would be joining Ulster 16 months later.
"That was the hardest point in my career so far," Piutau says. "It was another dream to play in a World Cup - and falling short was tough. But the Ulster offer came out of the blue. I was counting on my agent agreeing a contract with New Zealand and he had to tell me about Ulster the night before we were meant to finalise things. I was like: 'You've got to give me two weeks to think about this.' I wasn't thinking of coming overseas."
When Piutau's NZRFU contract with the Blues was not renewed, he was offered a short-term deal in England in the intervening period before he joined Ulster. He did well at Wasps, alongside his brother Siale, with whom he will be reunited at Bristol next season, and made the Premiership team of the 2015-16 season.
"London is a big, busy city," Piutau says, "but I prefer Belfast. During my first few weeks in London I'd be walking around smiling at people and they look at you like you're weird. But in Belfast you've got people stopping and chatting to you, laughing and joking around. It took a while to get the accent but now, when my family come over, I'm almost translating."
Piutau laughs before underlining his rapturous reception at Ulster. "The club has really welcomed me. I remember my first game against Dragons - running out and hearing the crowd singing the Ulster song and the band playing and everyone cheering me. Even the quietness before kicks stood out. In the southern hemisphere you get abused. So it's been very special."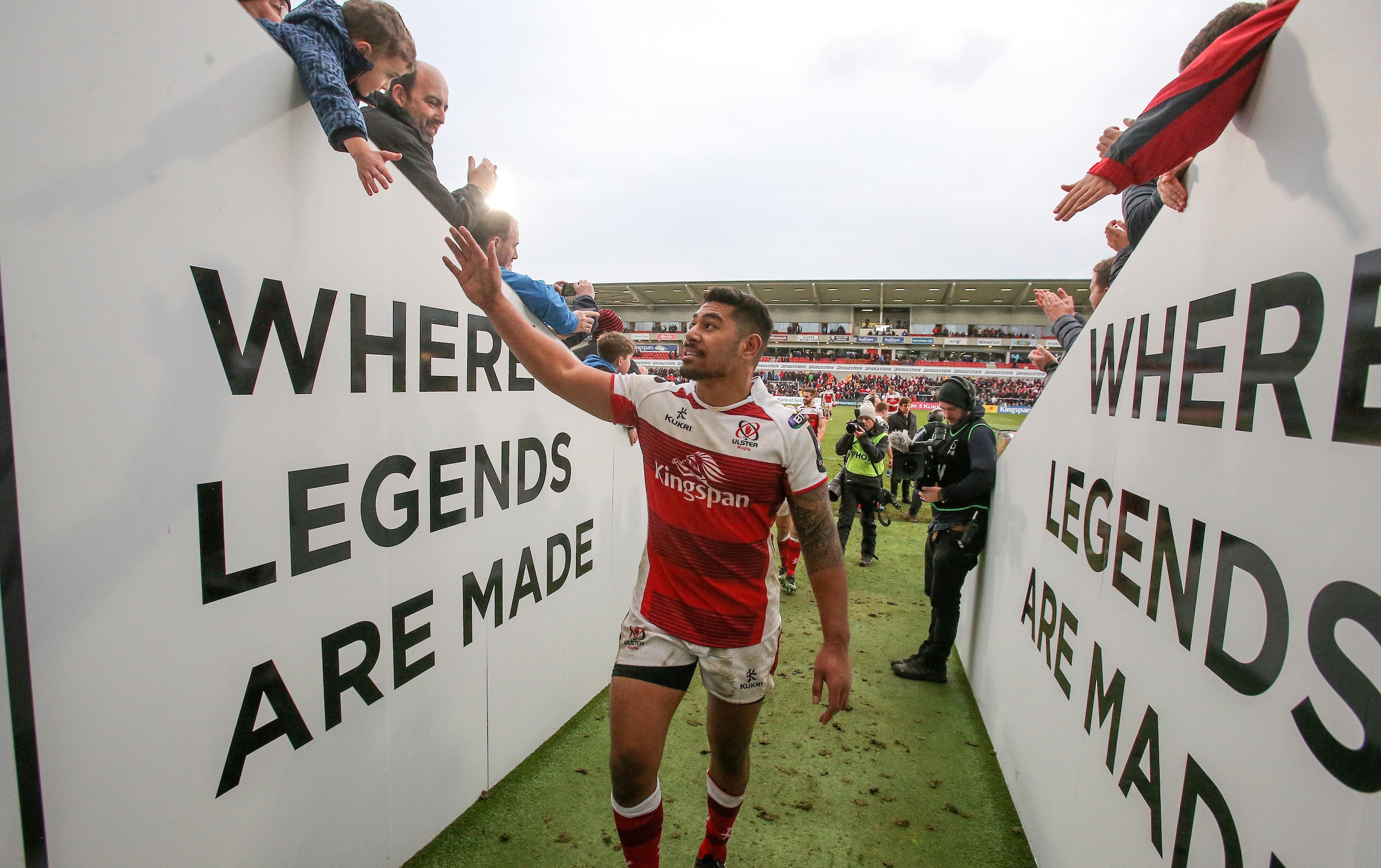 Ulster lead Conference B in the expanded Guinness PRO14 competition, which now includes two South African teams, and have won all four opening matches. That upbeat start matches a vibrant Belfast - which has changed so much since the darkness of the Troubles.
"I knew nothing at all," Piutau says when asked if he had a rudimentary knowledge of the sectarian conflict. "Once I signed, everyone would tell me their version of what happened and I was like: 'Are you sure?' It wasn't until I got here that I looked into things. I've found it very interesting and it's awesome how far they've come. Seeing different communities supporting us at this stadium is very special. This is the beauty of rugby uniting people."
As Piutau is such a warm and gregarious man he must have found it hard to tell his team-mates he was leaving them for Bristol?
"That's always the hardest - saying goodbye to team-mates, friends, coaches, management and the fans. But everyone has been understanding and it helped that I could speak to the team first. I said: 'This has been a very hard decision but I hope you all know I'll give 100% this season. We've still got so much to do together.' I was nervous at the start but I spoke from my heart. We have a lot of potential and I really want to make it a special farewell season."
Piutau has been enticed to Bristol by the presence his brother, and of their new coach Pat Lam and his friend and another former All Black, Steven Luatua. "Pat gave me my first Super Rugby opportunity. I only had two weeks with him at Auckland before he came to Connacht. But you could see his character and before he left he advised me to keep working hard and stay hungry to learn. It's incredible we'll work together again and I'll be there with my brother and Steven - who I've played with since we were kids. Those familiar faces were a big pull."
Despite the new life that Piutau is able to enjoy thanks to rugby, he still remains grounded.
"I'm still a Pacific Island kid who remembers our upbringing - and I hope to inspire other Pacific Island kids that you can do whatever you want to do. I've taken a place on the board of the Pacific Rugby Players' Welfare (PRPW) association because we come from a very small community which is big on family and village support. Lots of guys end up in Europe and find it difficult to transition. We support them."
Michael Jones, the great All Black, once said how he struggled to conquer the innate reserve embedded into his Polynesian upbringing. How did Piutau overcome his own diffidence away from the heat of battle? "It took a while but funnily enough I led a hip-hop dance group in high school. That really helped as I was leading 60 guys and I was also head prefect at school. So I got used to speaking in front of people."
Is he still breakdancing to old school hip-hop? Piutau laughs. "I'm not sure my body's up to that. But in terms of music now I could go from country to opera. I grew up listening to music my siblings played and opera just grew on me. There are young Pacific Islanders into opera now and we've got a three-man opera group called Sole Mio. I've seen them live and they're great."
Away from Test rugby, Piutau can open himself to new experiences whether it's living in the Titanic Quarter in Belfast or listening to opera. He remains committed to Ulster this season and the future of international rugby is in the hands of others. Piutau can concentrate on his own career and those who mean most to him.
"I speak to my dad about his early struggles when he moved to Auckland. He'd be working three different jobs - labouring and taxi driving. It was really hard for my parents but we've come a long way and one of the best feelings is knowing that my family are happy and secure. They're proud of what I'm doing and where I am."
---
Charles Piutau was speaking with Don McRae for The Guardian. To read the full interview, visit
https://www.theguardian.com/sport/2017/sep/25/charles-piutau-all-blacks-ulster-bristol-rugby-union-interview