With more Lions than any other club in Ireland and countless internationals the selection process was very difficult but the inductees are worthy of their inclusion as they have contributed richly to Queen's, Ulster, Ireland and the Lions.
Harry McKibbin
, Positon Centre 1938 South Africa
Played 16 Points 32
Harry was picked for the Lion 1938 tour to South Africa after only playing for Ireland once and he was to only win four international caps before the 2nd world war interrupted his career.
Harry started his senior rugby career at Queen's where he read law, he made his international debut début as a 22-year-old in 1938, when Ireland lost to Wales 5-11.
A few short months later Harry was on the boat to South Africa.
He was the only Lions back to play in all three tests against the Springboks, and kicked a vital penalty goal and conversion to help the tourists to a 21-16 victory in the third and final Test , the first Lions victory over the South Africa since 1910.
After hanging up his boots Harry became one of the game's top administrator, he became president of Queen's and the IRFU, was an Irish selector for four years from 1960 and was assistant manager of the Lions team which toured South Africa in 1962. He served as one of Ireland's representatives on the International Rugby Board for 20 years from 1967 including a spell as chairman.
In 1975 Harry was awarded a CBE for his services to rugby.
Jack Kyle
, Position Outhalf 1950 New Zealand & Australia
Played 20 Points 21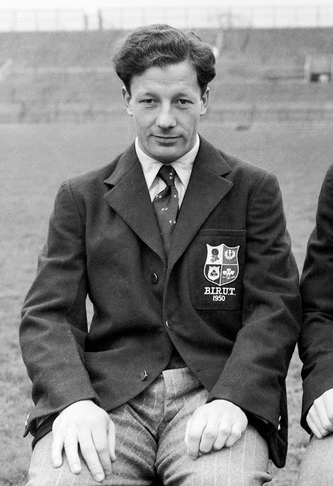 Arguable the greatest fly half the game ever seen Jack or Jackie as he was affectionately known was the key component in the golden era of Irish Rugby in the late 1940's and early 50's.
Ireland won first-ever Grand Slam, in 1948, followed by the Triple Crown in 1949 and the Home Nations championship in 1951.
Jackie studied Medicine at Queen's and made his Ireland debut in a non capped international, he went on to win 46 international caps which was a world record for an out half, it stood until England's Rob Andrew finally surpassed the tally in 1992.
Jackie made his Ireland debut in a victory over England at Lansdowne Road in 1946 and played in all four matches in the 48 slam, he was a key member of the Irish sides that won the 1949 and 51 Championships.
Jackie Lions side that toured New Zealand and Australia in 1950, he played in all six Tests and appeared in 19 games, scoring seven tries, he scored a scintillating try against the All Blacks for the in Auckland.
Jackie was part of the Ireland side that beat Australia in 1958 and was awarded an OBE a year later.
After retiring from club rugby in 1963 he did humanitarian work in Sumatra and Indonesia. Between 1966 and 2000, he worked as a consultant surgeon in Chingola, Zambia.
Cecil Pedlow
, Position Centre/Wing 1955 South Africa
Played 13 Points 58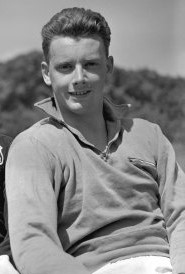 Cecil represented Ireland at squash, rugby and controversially missed out on representing Ireland in the Davis Cup at tennis, he also excelled at cricket and hockey.
After leaving Campbell College Cecil arrived at Queen's to study dentistry.
Cecil played for the university freshers in his first year but his strength, speed and footballing talent soon propelled him towards provincial and national honours, despite poor eye sight he was a ferocious tackler.
His first cap was against Wales at the Cardiff Arms Park in the 1954-55 season in which Ireland lost 6-3.
Cecil made the Lions tour to South Africa in 1995 which was captained by fellow Queen's Legend Robin Thompson.
Cecil's try in the first test in Johannesburg helped the Lions to a 23-22 win and was in front of 110,000 people was folklore placing a young Nelson Mandela in the crowd cheering the tourists on.
Cecil played in the fourth test which the Springboks won to square the series at 2-2 but Pedlow finished top scorer for the Lions with 58 points.
Cecil turned down the chance to tour New Zealand with the Lions in 1959 and won his last Ireland cap in Dublin against France in 1963.
Dick Milliken
, Position Centre 1974 South Africa
Played 13 Points 24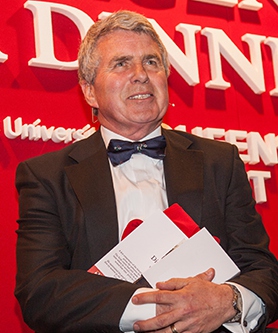 A schools cup winner with Bangor in 1969, Dick went out to win his first Ireland cap against England at Lansdowne Road four years later in a 18-9 victory
His performances earned him a play of the history making 1974 Lions tour.
Dick scored four tries in four games in the run up to the first test.
He touched down against Transvaal and scored in the rout of the Springboks in the second test.
Dick played in 13 of the 22 games including all four tests.
Unfortunately Milliken's international sporting career came to an abrupt end after just 14 Irish caps when he broke his leg and ankle during a game though he continued to play club rugby for his home town of Bangor.
---
The night included a Q&A session with five Queen's Lions - Phil Matthews, Tommy Bowe, Dick Milliken, Nigel Carr and Trevor Ringland, who are pictured outside the university.