McCambley Cup Final
Ballymena 4th XV 16 Ballymoney 4th XV 14 (After Extra Time)
Ballymena 4th XV have won the McCambley Cup, following a thrilling extra time victory over Ballymoney 4th XV at Kingspan Stadium.
Ballymoney started the game on the front foot with their pack putting plenty of pressure on the Ballymena rearguard, forcing penalties which Ballymoney out-half Cormac McCartney punished with successful goal kicks in the 9th and 15th minutes.
Ballymena gradually got themselves back into the game and Davy O'Hara got them off the mark with a 24th minute penalty. With neither side really threatening the try line in the second quarter, O'Hara slotted a superbly struck drop goal in the 37th minute to level up the sides at 6-6 at half-time.
Having both failed with early second half penalty opportunities, McCartney and O'Hara traded penalties in the 59th and 72nd minutes in what proved to be the only scores of the half; O'Hara's effort from the halfway line particularly impressive.
In the remaining five minutes O'Hara had three further penalty chances, but it was Ballymoney who finished on the attack as winger Neil Johnston skipped past two tackles but was forced into touch just metres short of the line as the referee signaled for full time with the sides locked at 9-9.
7 minutes into extra time O'Hara spurned another penalty, however Ballymena got the game's opening try three minutes later when full back John Nicoll kicked a speculative chip that cruelly bounced over the last defender and into the arms of Nicoll who ran in to touch down. O'Hara added the extra two points to put Ballymena 16-9 in front.
With the final play of the game Ballymoney gave themselves a glimmer of hope when replacement David Watson darted over for a try in the left corner. McCartney needed to slot the conversion to tie up the game once more but the angle proved too difficult and as his attempt dropped short the referee blew the full time whistle to signal Ballymena 16-14 winners.
Ballymena 4th XV Team:
(15-9): John Nicoll, David Ramsay, Rory Smith, Aubrey Crawford, Denver Suitters, Davy O'Hara, Richard McCrudden;
(1-8): Jimmy Allen, Davy Gaston, David McNeill, Paul McBride, Ian Caldwell, Noel Smith, Kevin Doherty, Davy Loughlin.
Replacements: Neville Hill, James Carson, Steven Johnson.
Ballymoney 4th XV Team:
(15-9): Ryan Brace, Neil Johnston, Darren Smith, Chris Clarke, Sandy McAuley, Cormac McCartney, Scott Nelson;
(1-8): John Waide, Sam McAuley, Sam Bartlett, Danny Platt, Adrian Graham, Aaron Ramage, Jason Taggart, Andrew Gardner.
Replacements: Drew Mills, David Watson, Timothy Hanna.
---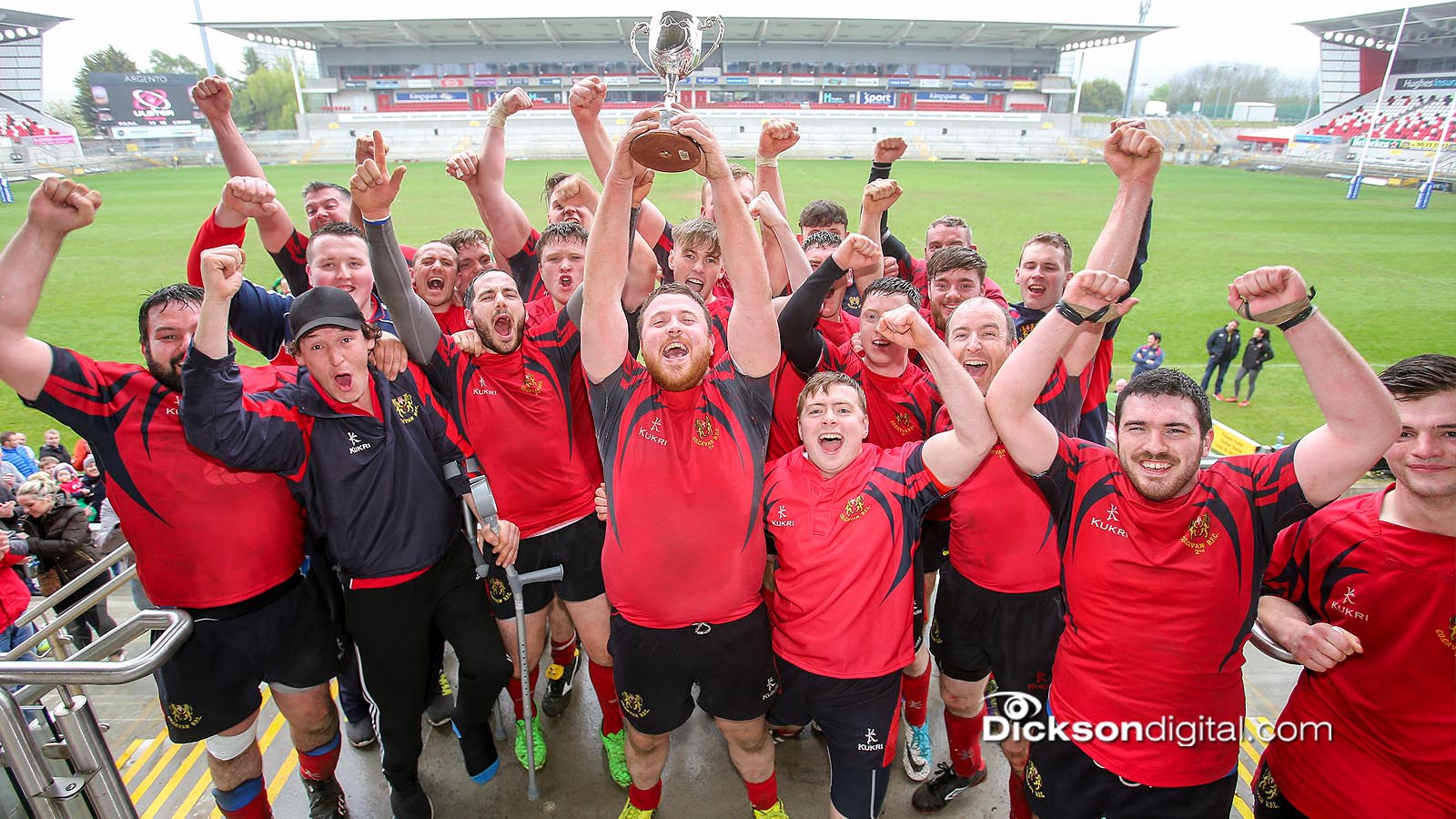 Gordon West Cup Final
PSNI 1st XV 13 Cavan 1st XV 16
Cavan RFC have won the Gordon West Cup for the first time in the club's history, thanks to a nail-biting 13-16 win over PSNI at Kingspan Stadium on Saturday afternoon.
PSNI made all the play in the opening stages of the game and it took some heroic last ditch defending from Cavan to prevent any early tries.
The PSNI pressure was rewarded on 24 minutes when captain Chris Fleming displayed a fantastic turn of speed to score in the right corner. The scrum-half attempted to convert his own try but his sideline effort was pushed to the left.
It took Cavan just six minutes to respond through centre Laurance Corcoran who sniped an interception in the midfield and raced through to touch down under the posts. Andrew Hamlin knocked over the elementary conversion to edge Cavan in front, 5-7.
Five minutes before the interval Hamlin sent over a well struck penalty from the right wing to put Cavan 5-10 ahead at half-time.
Within 60 seconds of the restart Fleming was presented with another penalty opportunity and he made no mistake, confidently dispatching the 30 metre kick.
A few minutes later, as Cavan made ground towards the PSNI 22, Hamlin dropped into the pocket for a drop goal but his effort dropped just wide.
Hamlin then added another penalty and a successful drop goal, either side of a missed penalty, to open an 8-16 lead for the Cavan men.
In the final quarter of the game, PSNI poured on the pressure with wave after wave of attack. They did cross the line on 75 minutes when replacement Colin Hamilton finished off a well worked move from left to right to narrow the deficit to 13-16, but Cavan were able to repel any further attacks and hold out for the historic victory.
PSNI 1st XV Team:
(15-9): David Parkhill, Richard Tipping, Andrew Holmes, Michael Andrews, Kyle Corrigan, Andrew Hamlin, Chris Fleming;
(1-8): Alistair Barnes, Adam Miller, Matthew Weir, Ryan Stewart, David Kenwell, Daniel Clegg, Andrew Hassard, Matthew Hill.
Replacements: Stuart Gilroy, Colin Hamilton, Richard Loughlin, Stephen Dunne, John Bogle.
Cavan 1st XV Team:
(15-9): Philip Mulligan, Eugene Fay, Adam Crowe, Laurance Corcoran, Donal Lynch, Ciaran Crowe, Gary Brennan;
(1-8): Gary Gillespie, Cillian Murtagh, Karl Heaslip, Gary Browne, Shane McCormack, Joshua Crowe, Daniel McGregor, John Dunne.
Replacements: Myles O'Reilly, Irwin Heaslip, Cian Hughes, Dermot Conaty, Aaron Fitzpatrick.
---
Forster Cup Final:
Malone 4th XV 0 Portadown 3rd XV 23
In the third club final of a Kingspan Stadium triple header on Saturday afternoon, Portadown 3rd XV collected their first Forster Cup with a well deserved 0-20 win over Malone 4th XV.
There was little to separate the two sides in a keenly contested and physically attritional first half, however Portadown exploded into life five minutes before the interval when out-half Barry Gribben opened the scoring from the tee.
Then three minutes later winger Gareth Hutton made a well timed interception in the midfield and, despite the best efforts of the Malone cover, powered over the whitewash to touch down. Gribben's conversion gave the County Armagh men a 0-10 lead at the break.
The second half was much more one-way traffic as Portadown enjoyed the lion's share of possession and territory.
Gribben slotted over another well struck penalty on 54 minutes to edge his side further ahead, before number 8 Jordan Taylor ensured the win with a 60th minute try. With Malone trying to exit from a 5m defensive lineout, Portadown stole the ball, then Gribben released Taylor, who had taken a great line through the middle, to dot down between the sticks.
With five minutes remaining Gribben sent over his third penalty to seal the 0-23 win for the Portadown men.
Malone 4th XV Team:
(15-9): Martin Griffith, James Conway, Aaron Culbert, Karl Yellop, Edmund York, Andrew McCarter, Jamie Scott;
(1-8): Cathal McSorley, Tristan McCorry, Will Poulter, Keith Goddard, Rodney Burns, Wayne McCormick, Mark Hobson, Dave McKinley.
Replacements: Jokin Egana Bilbao, Jack McHugh, Bruce Harper.
Portadown 3rd XV Team:
(15-9): Nick Holt, Gareth Hutton, Peter Liggett, Alan Robinson, Harry Anderson, Barry Gribben, Stanley Hamilton;
(1-8): Aaron Winter, Aaron Murtagh, Jonathan Reid, Peter Keightley, Keith Adams, Bodean Mane, Stuart Lyness, Jordan Taylor.
Replacements: Andrew Richardson, Darren Leckey, Ross Whitfield.