Danske Bank Girls Schools' Cup Final
The first quarter saw impressive handling and good defence from both sides, but with nine minutes on the clock, an Enniskillen break by Alison Glass, was offloaded superbly to her captain, Rebecca Pennell, who was able to dart in for the first try of the day.
Shortly after, another break came for the girls in green and red, resulting in Glass crossing the whitewash for the Fermanagh side's second try.
Just before the 15 minute mark, Ballyclare's Sophie McDowell made an impressive run from turnover ball, but she was tackled five metres out. Unfortunately Ballyclare could not convert pressure into points and Enniskillen were soon back in the driving seat. A superb run from Ellie Ingrim gave Collegiate momentum, but this time Ballyclare's defence rallied and a loose ball was picked up by Lydia Mills, who ran the length of the pitch for a breakaway try.
Just before the break, slick handling from Enniskillen allowed them the final say of the half as Sophie Coalter touched down in the corner for Collegiate's third try.
Half time: Ballyclare High School 1, Enniskillen Collegiate 3
Excellent footwork by Ellie Rix opened up space for Pennell to dot down for a fourth Enniskillen try in the first minute of the second half. Ballyclare responded almost immediately with good handling skills sending Rebecca McConnell comfortably over the line.
After 25 minutes, Ballyclare were once again on the attack after turnover ball allowed selfless play by Sophie McDowell to put Zara McIlwaine over for the High School's third try. Two minutes later, Enniskillen spotted an overlap which sent Ellie Ingrim in for an effortless try.
Ballyclare responded with a strong attack however an unfortunate knock-on gave Enniskillen possession and allowed for another phase of pace and strength from Ellie Rix. Who offloaded to her hardworking team-mate Katie Hetherington, who landed her first try of the game.
With 30 minutes on the clock, Collegiate's Sophie Coalter touched down in the corner. With bodies tiring, this was immediately responded to by Lydia Mills, who made her mark again. Impressive footwork from Ellie Ingrim broke Ballyclare's defensive line to touch down for their eighth try. This was followed up by Ingrim's opposite number Sophie McDowell, who set up Laura McCowan for Ballyclare's fifth try.
With five minutes to go, Ellie Rix, Katie Hetherington and Emma Shaw combined to send Enniskillen over for another impressive score. Ballyclare fought hard in the dying minutes and a series of clinical passes resulted in Zara McIlwaine touching down for her second. Despite their last ditched attempt at the title, first-timers Ballyclare High School were unable to overturn holders and eight-time finalists, Enniskillen Collegiate.
Full time: Ballyclare High School 6, Enniskillen Collegiate 9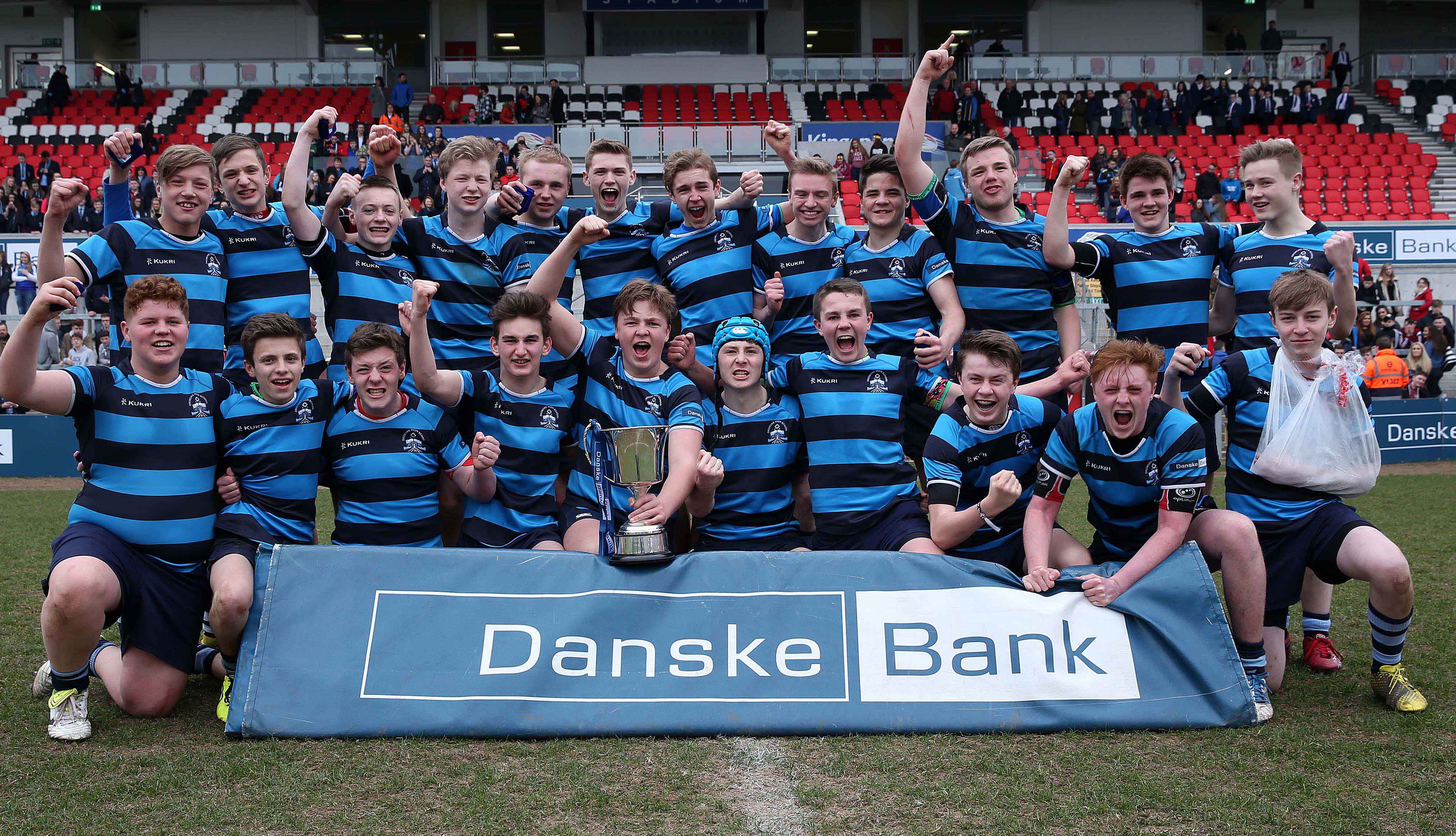 Danske Bank High Schools' Trophy
It was a close contest in the first 15 minutes with most of the play between the 22m lines until Dromore's Peter O'Connor took his chance and stormed over in the corner for the first points of the day, the conversion was unsuccessful. Ballyclare responded with a good break by Ross Warren but he was brought down just short of the goal line.
Just before half time, Dromore were on the attack again, an excellent break from captain Ben Heath saw him skilfully distribute the ball to his fullback who accelerated down the wing to score in the corner. The conversion was unsuccessful.
Half time: Ballyclare Secondary School 0, Dromore High School 10
Dromore continued to pile on the pressure but strong Ballyclare defence held them at bay. With 40 minutes gone, Dromore fired a quick ball wide, which was picked up by centre Matthew Corbett who ran in from 10m out to score close to the posts. This time the conversion was successfully slotted by James Smith.
Ballyclare responded with a sustained period of pressure in the DHS 22. However they could not permeate the strong Dromore defence. Eventually the boys in blue were able to clear their lines.
An excellent break and offload from captain Johnston Kirkpatrick provided Jake Semple with an Secondary School opportunity on the wing, however good defence from Dromore bundled him into touch.
Minutes later, Dromore were successful at the lineout on the Ballyclare 10m line, impressive backrow play put Dromore on the front foot and Richard Dickson barged over for their fourth try. Smith was successful with the conversion.
With just two minutes to go, Ballyclare lost the ball from a penalty deep in their own half and scrumhalf James Smith took his chance and crossed the whitewash to cement his team's impressive win. He added two points from the tee and celebrated a well earned victory with his team mates.
Full time: Ballyclare Secondary School 0, Dromore High School 31