// Ticket Update
Tickets are still available for today's much anticipated Schools' Cup Final. You are strongly advised to purchase tickets in advance by
clicking here
and printing your ticket at home.
Those supporting RBAI should purchase tickets in Grandstand Block 6-9 and West Terrace 2. Campbell College supporters should purchase tickets in Grandstand Block 1-4 and West Terrace 1. Children in school uniform are not permitted in the West Terrace at any time. Please note, seating in the Grandstand for this game is unreserved within blocks.
Tickets will also be available to purchase from the Ulster Rugby Ticket Booth on Onslow Parade and the mobile Ticketmaster Box Office on Mount Merrion Avenue from 1.30pm. Tickets purchased on the gates will be on general sale and therefore you cannot select supporter areas within the stadium.
Tickets will be priced at £20 (seated) and £15 (standing) for adults and £15 (seated) and £10 (standing) for children. Please note there will be no card payments available and long queues are expected.
Tickets that are due to be collected can be picked up at the Ticket Booth located at the Onslow Parade Entrance on the Ravenhill Road side of the ground from 1.30pm.
// Entertainment
Danske Bank Best Fan Competition
Are you a Danske Best Fan? Show us your best colours in support of your Ulster Schools' Cup Finalists whether it be black and white, or black and yellow! Share your fan pictures using #DanskeBestFan on Twitter and on Facebook for a chance to win one of five £50 sports vouchers this week. T&Cs apply. Visit
http://buzz.mw/baxit_I
for details.
Q Radio Roadshow
Ibe Seesay and the Q Radio Street team will be adding to our match day atmosphere with a live music broadcast from the Q Radio Bus!

Food Village

Test your rugby skills at the Riverrock Passing Challenge, and don't forget to pick up your clappers from the Danske Bank promotional team in the Food Village. Linden Hill catering truck, Vanilla Black coffee shop, Dinky Donuts, Bella's Pizza and much more will also be in operation in the Food Village, and at the Aquinas End of the ground from 1.30pm.

Kukri Sale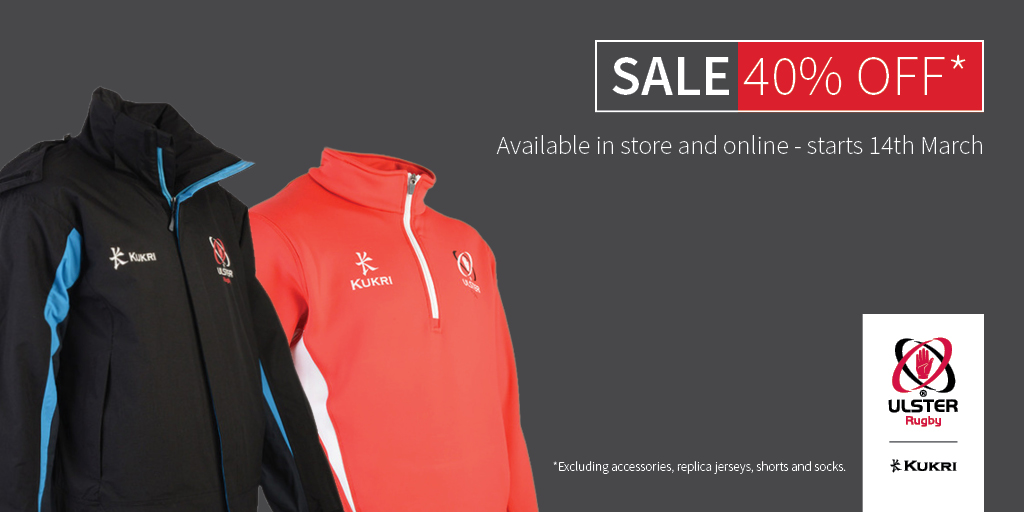 Don't forget to check out Kukri's 40% off leisurewear sale, which is on now! The shop is located under the Memorial End Stand and it will be open all afternoon or you can shop online at www.ulsterrugbyshop.com...
// Match Programme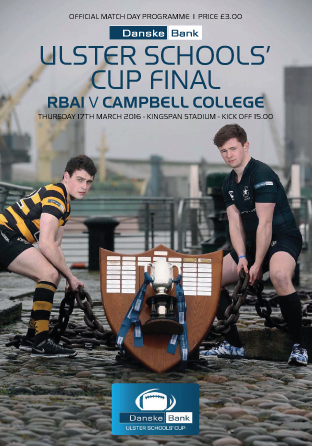 The 2016 Official Danske Bank Ulster Schools' Cup Final match programme will be on sale from 1.30pm in the stadium for £3. The programme contains match information, player profiles, team sheets, coach profiles, and good luck messages from Paddy Wallace and Marc Mallett, and David Irwin and Stephen Nolan.
You can also download an Official Digital Match programme for your smartphone or tablet FREE OF CHARGE by clicking here.
// Kingspan Stadium Values
We are proud that a match day at Kingspan Stadium is a safe, enjoyable, inclusive experience for people of any age. We have a number of traditions that we believe make our stadium one of the best places in Europe to watch live rugby. Here are our Ulster Rugby values and we ask all our fans to support them throughout the season:
- We are passionate in our support.
- We are silent during kicks at goal by both teams.
- We respect the match officials' decisions.
- We drink responsibly.
- We are mindful of our language, especially when there are children and young people near us.
- We do not tolerate sectarian, homophobic or derogatory language.
- We respect the opposition players, supporters, management and officials.
If you are attending a match at Kingspan Stadium and have an issue, please contact your nearest steward. Following a game, you can email any observations or issues to
standup@ulsterrugby.com
. Thank you and enjoy the match.
Please note:
Ticket holders are required to comply with the sports provisions within Part 4 of the Justice Act (Northern Ireland) 2011 specifically the offences relating to the throwing of missiles, chanting, going onto the field of play, being in possession of a firework or flare, or contravening the conditions of a banning order. As the above are all criminal offences any breaches will be reported to the PSNI for investigation.