TEAM UPDATE
Ulster team and replacements to play Scarlets, Guinness PRO12, Kingspan Stadium, Sunday 21 February, 2.30pm:
(15-9): S Olding, C Gilroy, D Cave, L Marshall, J Stockdale, P Jackson (captain), P Marshall;
(1-8): A Warwick, J Andrew, R Lutton, A O'Connor, F van der Merwe, R Diack, C Henry, R Wilson;
Replacements (16-23): J Murphy, K McCall, B Ross, P Browne, C Ross, R Pienaar, I Humphreys, S Arnold.
TICKET UPDATE
Terrace tickets will be available to purchase at the Onslow Parade Ticket Booth from 1.00pm on Sunday or alternatively click here to purchase in advance and print tickets at home for your convenience.
If you are collecting tickets, please also make your way to the Ticket Booth from 1.00pm.
Please note Sunday's game is covered by the 2015/16 Season Ticket.
For general ticket information and to purchase tickets for all upcoming fixtures, you can visit the main Ticket Office from gates open up to 30 minutes after the final whistle.
ENTERTAINMENT
To celebrate our Family fixture, special goodies will be on hand for those first through the turnstiles on Sunday so be sure to arrive for 1pm to make the most of your match day!
Stephen Clements and the Q Radio Street Team will be located in the Food Village providing the soundtrack to your family-fun day at Kingspan Stadium.
With extra activities for all ages, why not make the most of it and involve the whole family?
Callum Black and Dan Tuohy will be in the Phoenix Dome from 1pm at the fan photo booth, and will be joined by Nick Williams who will be happy to sign autographs and pose for selfies. Our face painting crew will also be in the Phoenix Dome.
As if that wasn't enough, we also have a climbing wall, live bands, and Sparky thrown into the mix!
Meet the Players!
| | | |
| --- | --- | --- |
| Who? | Where? | When? |
| Callum Black, Dan Tuohy and Nick Williams | Photo-booth, Signing session and face painting - Phoenix Dome | 1.10-2.10pm |
| Willie Faloon and Rob Herring | OUR Club (kids club) | 1.10-1.25pm |
| Willie Faloon and Rob Herring | Climbing Wall - Food Village | 1.25-1.45pm |
| Rob Herring | URSC Desk | 1.55-2.10pm |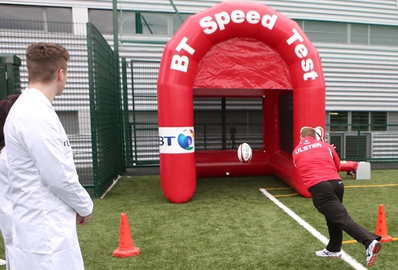 BT Speed Test - Quick enough for £500?
The search for the fastest pass at Kingspan Stadium continues! BT, Official Communications partner of Ulster Rugby, ramps up your pre-match experience with the hotly contested BT Speed Test.
Using state of the art radar technology, Ulster fans will be challenged to record their fastest pass which will be benchmarked on a leader-board of scores from the year.
Each participant will be given two attempts to record their fastest pass for a chance to win the fastest pass for each game it runs. Each match-day winner will take part in a Grand Finale in April for a chance to take the 2015/16 Winner's Award and £500, with thanks to BT.
Think you're fast enough? Prove it!
Centra Half Time Mini Rugby
Your half time mini-rugby entertainment will be provided by Strabane v Armoy at the Memorial end and Newry v Finn Valley at the Family end. Let's give them a great reception!
COMPETITION TIME
Selfie for the Ulster Men and Win!
Kingspan is offering Ulster fans the opportunity to train with the Ulster squad by simply tweeting a #KingspanStadium selfie to @KingspanStadium at any of this season's home games.
Whether you're heading to the game or watching from home, if Ulster are playing in Kingspan Stadium we want your selfies! Simply snap a selfie of you / your friends enjoying the action and tweet the image to @KingspanStadium using #KingspanStadium before midnight on Sunday of the game weekend.
The winner with the best selfie will then be announced on air by the Q Radio Breakfast team on Monday morning, and also via Twitter. Each winner will be invited, along with a friend, to attend Kingspan Stadium and take part in a training session with members of the Ulster Rugby squad. It's time to Selfie for the Ulster Men!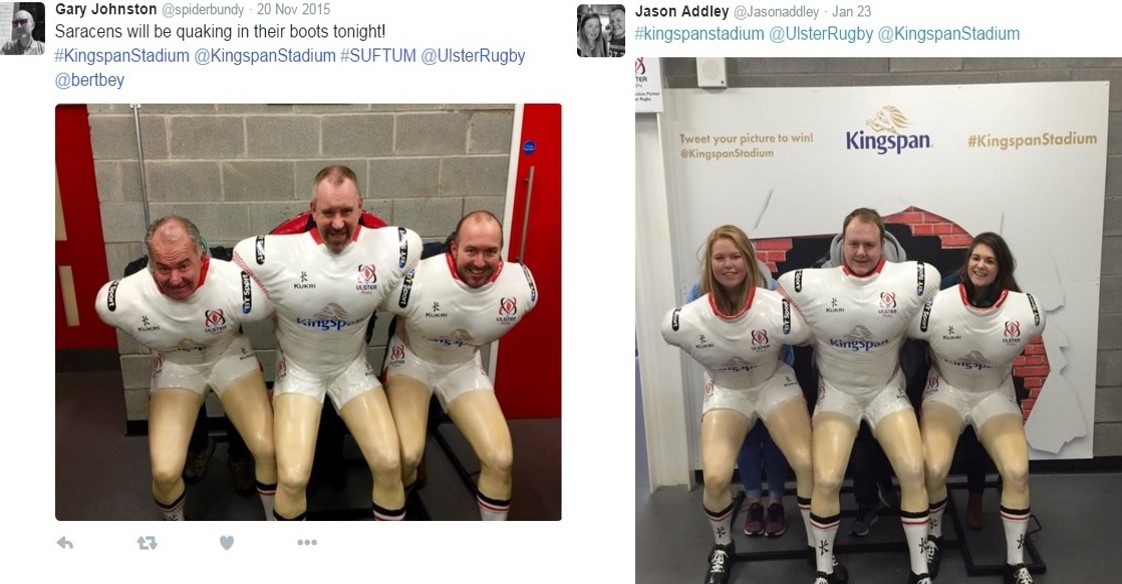 Scrum to win! Win a signed Ulster Rugby jersey with the Kingspan Scrum Wall
Kingspan, proud partners of Ulster Rugby, can this week reveal an added incentive to those lining up in the Kingspan Scrum Wall.
The best scrum faces, tweeted with #KingspanStadium, will be selected after each game to win a brand new Ulster Rugby home jersey.
All entrants for the 2015/16 season will also be automatically entered for a chance to win the end of season prize of a framed, signed Ulster Rugby jersey, with thanks to Kingspan. The more entries you post, the greater your chance to win - get scrummaging!
Hughes Insurance Family Stand Competition
To celebrate their sponsorship of the Family Stand, Hughes Insurance promotional staff will be circulating a photo frame at today's match. They will also be joined by two Ulster Rugby stars so keep an eye out!
Get your photo in the frame and upload it to the Hughes Insurance Facebook page or Twitter using
#WEAREFAMILY
and you can win four tickets to Ulster vs Leinster!
MATCH PROGRAMME
The Ulster Rugby match programme will be on sale from 1pm inside the stadium.
The programme contains match information, player profiles, team sheets, partner competitions, branch news, an exclusive interview with Roger Wilson, an Academy Update and a guest article from Rod Nawn.
You can download an Ulster Rugby digital match programme for your tablet or smartphone which includes video content as well as direct links to products and tickets. Visit
www.ulsterrugbydigital.com
to pre-register now.
TRAVEL UPDATE
Ulster Rugby's Match Day Park and Ride Service will be in operation (provided by Belfast Bus Company). Parking is available opposite Podium for Sport on Montgomery Road and also at Pirrie Park on the Ravenhill Road side of the stadium. Buses will run continuously from two hours before the game and pick up on a continuous loop up to 90 minutes after the final whistle for Pirrie Park (drop off at Ardenlee Avenue with the exception of special access coaches) and 60 minutes for Montgomery Road.
A Fonacab taxi service operates from in front of the Main Office from 20 minutes after final whistle.
Ulster Rugby is also offering a complimentary bus service (operated by Belfast Bus Company). This bus will depart Mount Merrion Avenue after the game dropping off at Victoria Square. Please respect our local residents when travelling to and from the stadium.
Supporters are advised that there is no access to the stadium via the Aquinas Grammar School entrance except for those in possession of Car Park passes.
Please remember, if you are attending a match at Kingspan Stadium and have an issue, please contact your nearest steward. Following a game, you can email any observations or issues to standup@ulsterrugby.com.
RUGBY CHURCH
ULSTER RUGBY VALUES
For those of you making your first trip to Kingspan Stadium…
We are proud that a night at the home of Ulster Rugby is a safe, enjoyable, inclusive experience for people of all ages. We have a number of traditions that we believe make our stadium one of the best places in Europe to watch live rugby. Here are our Ulster Rugby values and we ask all our fans to support them throughout the season:
- We are passionate in our support of the Ulster team.
- We are silent during kicks at goal by both teams.
- We respect the match officials' decisions.
- We drink responsibly.
- We are mindful of our language, especially when there are children and young people near us.
- We do not tolerate sectarian, homophobic or derogatory language.
- We respect the opposition players, supporters, management and officials.
Please remember, if you are attending a match at Kingspan Stadium and have an issue, please contact your nearest steward. Following a game, you can email any observations or issues to
standup@ulsterrugby.com
.
Thank you and enjoy the match. SUFTUM!