Banbridge progress in Nutty Krust Tournament
The first game in the 2016 Nutty Krust U18 Floodlit Tournament was played on Wednesday night when Banbridge defeated Ballynahinch 17-0.
The Banbridge team started brightly; Martin Shirlow, Ben Jameson and Aaron Duggan combined to set up a 5m scrum, from which number 8, Andrew Neill, scored. Loosehead prop, Martin Shirlow, added the conversion for a 7-0 lead.
The Ballynahinch team responded positively but they could find no way through and Robin Sinton relieved the pressure with a great run out of defence. That took play into the opposition 22m area and quickly recycled ball allowed Alex Finney to storm over for an unconverted try.
Both teams were determined to stay in attack mode whenever the opportunities arose but the remainder of the half saw the defences on top, which ensured it was the Banbridge team that took their 12-0 lead into the break.
The Ballynahinch team, with the cold wind in their backs, started the second half very well. The controlled territory and possession for long periods of time with players such as Jamie Hewitt, Jamie Dornan, James Millar, Jason Lyons and Ryan Murphy all asking questions of the Banbridge defence.
Midway through the second period the Banbridge team did manage to get out of their 'red zone' and it was that man Sinton again! He led the charge out of defence and his great pace and awareness took play deep into Ballynahinch territory. He combined well with Ben Jameson, Jordan Pickering and Alistair McDowell, before Harry Proctor crossed for a decisive score. The conversion attempt was unsuccessful but the Banbridge lead had increased to 17-0 with just minutes of the game remaining.
Following the game the traditional Nutty Krust post-match function took place in the Portadown RFC Clubhouse. Both teams, as well as their officials, had a post-match meal which was organised by Calvin Rowe, a member of the Nutty Krust organising committee. The meal was sponsored by Jim Hewitt of Jim Hewitt Meats and made by Andrew Forker and the staff of 'Scrummies' the caterers in Portadown Rugby Club.
Brian Irwin, Chairman of Irwin's Bakery presented the Man of the Match Award to Banbridge player, Robin Sinton (pictured above). All players and officials were then presented with a Nutty Krust loaf in keeping with a tradition that has been in place for the duration of the Nutty Krust Tournament.
?Coleraine RFC & Eoghan Rua GAA to host Boxing Night
Coleraine RFC & Eoghan Rua GAA, Portstewart, are having a boxing fight night on Saturday 9th April, fundraiser for both clubs - 12 men and 4 womens matches.
The 'Clash of the Codes' is shaping up to be the biggest sporting occasion Coleraine has seen in many years.
The massive event will see twelve men and four women each from Coleraine Rugby Club and Eoghan Rua GAA Club battle it out in a boxing match to see who will be crowned 'King of the Ring'.
The event will take place in a specially constructed marquee at the rugby club and it promises to be an thrilling evening as the amateur boxers try out their skills in the ring.
None of the fighters have prior boxing experience and as they start training this month they will be learning the basics of one of the oldest sports in the world. The training, organised with the help of local amateur boxing clubs, will emphasise safety and each participant will have full boxing headgear on the night.
It is anticipated that upwards on 1,500 people will be supporting the fighters and there will be lots of facilities available to make the evening an enjoyable and memorable one.
On the night things start off with a celebrity dinner and throughout the evening food and refreshments will be available to everyone. Every possible effort is being made to make sure members and friends have an evening to truly remember.
Special guest commentators will be on hand to keep everyone informed during the contests and a number of celebrity figures will be making an appearance during the evening.
Tickets for the event are on sale at both Eoghan Rua and Coleraine Rugby Clubs and from members of the club who are taking part in the event. They are also available from Portstewart Family Practice, Portstewart Clothing Company, Springhill Bar, Portrush and Chill Foodhall, Coleraine. Price £15.
Sponsorship opportunities are still available for any business that wants to support the event. Contact either club for details.
For now the 32 brave fighters are getting into their gruelling training regime, getting boxing fit, learning how to defend themselves and working out how to score those important winning points.
It promises to be a fantastic event, one you should make sure not to miss.
U12 High Schools' Blitz for Western region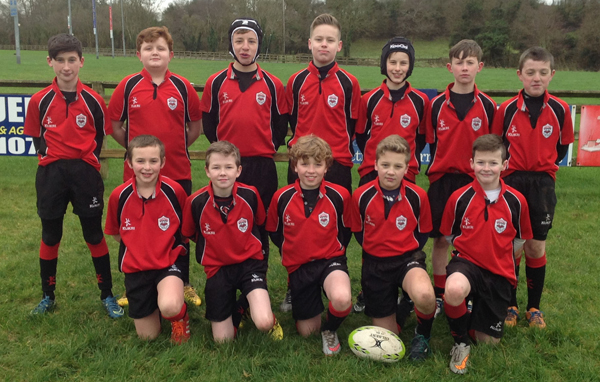 An U12 High Schools' Blitz earlier this month at Clogher Valley RFC, with six schools in the west of the Province enjoying a 10-a-side tournament.
Players from Fivemiletown College (pictured), Erne Integrated, Omagh High, Dungannon Integrated, Aughnacloy College and Drumragh Integrated exhibited a fine skill set on what was a bitterly cold day.
Thanks are expressed to Clogher Valley for hosting the tournament and to local teacher Stephen Clarke for making arrangements, assisted by Ulster Branch staff.