TEAM UPDATE
Director of Rugby, Les Kiss, has named Ulster's match day squad to take on Oyonnax at Kingspan Stadium tomorrow afternoon…
(15-9): J Payne, A Trimble, D Cave, L Marshall, C Gilroy; P Jackson, P Marshall;
(1-8): K McCall, R Herring (capt), R Lutton; A O'Connor, F van der Merwe; R Diack, S Reidy, N Williams;
Replacements (16-23): R Best, C Black, B Ross, C Ross, R Wilson, D Shanahan, I Humphreys, R Scholes.
TICKET UPDATE - TICKETS STILL AVAILABLE
Tickets are available for this game from the main Ticket Booth located on the Onslow Parade gate on the Ravenhill Road side of the ground from 11.30am tomorrow.
To secure the best available remaining tickets, simply visit
www.ulsterrugby.com/buytickets
now and print your tickets at home for convenience. If you are due to collect tickets, they can also be picked up from the Ticket Booth.
For general ticket information you can visit the main Ticket Office (located behind the Food Village in the Admin building) from gates open, during the match and 30 minutes after the final whistle.
ENTERTAINMENT
Stephen Clements and the Q Radio Street Team will be located in the Food Village providing the soundtrack to your Saturday afternoon at Kingspan Stadium.
Charity Calendars - Exclusive Offer!
Tomorrow Chris Henry and Iain Henderson will be in the Phoenix Dome from 11.45am selling and signing as many 2016 Ulster Rugby charity calendars as they possibly can to support Alzheimer's Society. The calendars are priced at just £5 so get down early and who knows you might even get a selfie if your lucky!! All proceeds will go towards our official charity partner of the year; Alzheimer's Society. Thank you in advance for your support!
Meet the Players!
| | | |
| --- | --- | --- |
| Who? | Where? | When? |
| Stuart McCloskey and Tommy Bowe | Kids Club (OUR Club Quarter) | 11.35 - 11.50am |
| Chris Henry and Iain Henderson | Calendar Signing Session - Phoenix Dome | 11.45am - 12.30pm |
| Sammy Arnold | BT Speed Test | 11.35am - 11.50am |
| Stuart McCloskey | Kukri Shop | 12.00 - 12.20pm |
| Tommy Bowe | URSC Desk | 12.00 - 12.20pm |
BT Speed Test Returns with £500 prize!
BT, Official Communications partner of Ulster Rugby, this week runs the BT Speed Test for the hotly contested clash against Oyonnax Rugby.
Using state of the art radar technology, Ulster fans will be challenged to record their fastest pass which will be benchmarked on a leader-board of scores from the year.
The speed to beat is 48mph (recorded last year by Mike Allen) when the players took part in their own BT Speed Test Challenge, and hundreds of Ulster fans have clocked up personal bests and prizes throughout the season since then.
Each participant will be given two attempts to record their fastest pass for a chance to win the fastest pass for the month. Each monthly winner will take part in a Grand Finale in April for a chance to take the 2015/16 Winner's Award and £500, with thanks to BT.
Visit Stephen Ferris in his pop up pub!
Heineken is celebrating its partnership with the European Champions Cup with a special pop up pub inside the Heineken Quarter from 12 - 1pm only!
The 'Tap and Go' pop up pub has a very special landlord, Ulster legend Stephen Ferris! See the Heineken promo team for your complimentary pint pass and visit Stevie at the Heineken Quarter where he will be pulling pints before kick-off.
You can also tweet your questions to @stephenferris6 to be in with a chance of winning Ulster Rugby tickets to one of our upcoming matches. (over 18s only)
Live Band!
The Russian Dolls will be performing in the Club House Bar (at the back of the Grandstand) from 12 noon tomorrow, during half time and for an hour after the game. Get down to support the Dolls and if you have any requests, please let them know!
Centra Half Time Mini Rugby
Your half time mini-rugby entertainment will be provided by Holywood, Belfast Harlequins, Dromore and CIYMS RFC. Let's give them a warm reception!
COMPETITION TIME
Selfie for the Ulster Men and Win!
Kingspan is offering Ulster fans the opportunity to train with the Ulster squad by simply tweeting a #KingspanStadium selfie to @KingspanStadium at any of this season's home games.
Whether you're heading to the game or watching from home, if Ulster are playing in Kingspan Stadium we want your selfies! Simply snap a selfie of you/ your friends enjoying the action and tweet the image to @KingspanStadium using #KingspanStadium before midnight on Sunday of the game weekend.
The winner with the best selfie will then be announced on air by the Q Radio Breakfast team on Monday morning, and also via Twitter. Each winner will be invited, along with a friend, to attend Kingspan Stadium and take part in a training session with members of the Ulster Rugby squad. It's time to Selfie for the Ulster Men!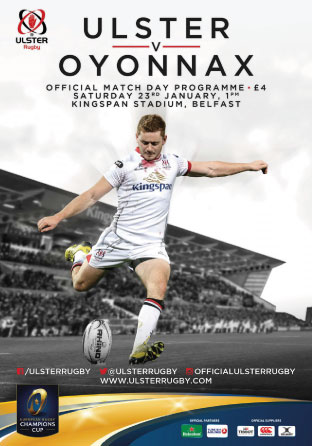 MATCH PROGRAMME
The Ulster Rugby match programme will be on sale from 11.30am inside the stadium.
The programme contains match information, player profiles, team sheets, partner competitions, branch news, exclusive interviews with Paddy Jackson and Rory Scholes, and a guest article from Rod Nawn.
You can download an Ulster Rugby digital match programme for your tablet or smartphone which includes video content as well as direct links to products and tickets. Visit
www.ulsterrugbydigital.com
to pre-register now.
TRAVEL UPDATE
Ulster Rugby's Match Night Park and Ride Service will be in operation provided by Belfast Bus Company. Parking is available opposite Podium for Sport on Montgomery Road and also at Pirrie Park on the Ravenhill Road side of the stadium. Buses will run continuously from two hours before the game and pick up on a continuous loop up to 90 minutes after the final whistle for Pirrie Park (drop off at Ardenlee Avenue with the exception of special access coaches) and 60 minutes for Montgomery Road.
A Fonacab taxi service operates from in front of the Main Office from 20 minutes after final whistle.
Ulster Rugby is also offering a complimentary bus service (operated by Belfast Bus Company). This bus will depart Mount Merrion Avenue at 15:15, 15:40, 16:00, 16:20 dropping off at Victoria Square. Please respect our local residents when travelling to and from the stadium.
ULSTER RUGBY VALUES
For those of you making your first trip to Kingspan Stadium…
We are proud that a night at the home of Ulster Rugby is a safe, enjoyable, inclusive experience for people of all ages. We have a number of traditions that we believe make our stadium one of the best places in Europe to watch live rugby. Here are our Ulster Rugby values and we ask all our fans to support them throughout the season:
- We are passionate in our support of the Ulster team.
- We are silent during kicks at goal by both teams.
- We respect the match officials' decisions.
- We drink responsibly.
- We are mindful of our language, especially when there are children and young people near us.
- We do not tolerate sectarian, homophobic or derogatory language.
- We respect the opposition players, supporters, management and officials.
Please remember, if you are attending a match at Kingspan Stadium and have an issue, please contact your nearest steward. Following a game, you can email any observations, complaints or issues to standup@ulsterrugby.com
Thank you and enjoy the match. SUFTUM!